What do you think of SPAM? I've never been a particular fan of the "Shoulder Pork and Ham" processed meat. But it has a very interesting history that even included wide-use during WWII. However, it was at the dawn of Internet and email that it became synonymous with junk email, and it has stuck ever since.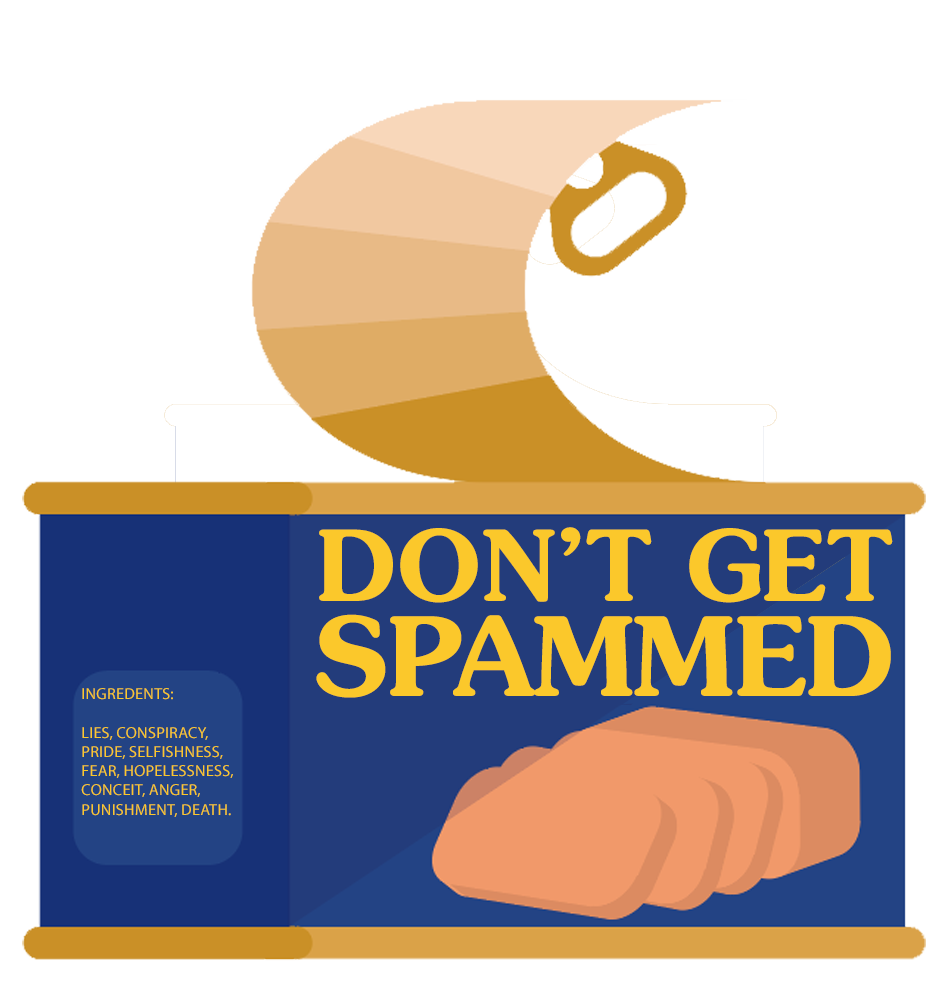 It's no fun to "Get Spammed".
I've received SPAM email for as long as I can remember – solicitations for home blinds, warranties, political support, social issues, new products. The whole purpose of these emails is to wear you down in hopes that you eventually click on whatever it is and they have you…you've bought something you don't need, you've compromised your private information, and you've made yourself open and vulnerable to even more "attacks".
As irritating as SPAM emails can be, a similar SPAM attack is wreaking havoc within the Church. The world is throwing as much negative pieces of news and information at as many people as is possible in hopes that just a few will open it up, consume it, and spread it to more unsuspecting victims. But this attack is even more damaging than an email could ever be.
About 2 weeks ago I started receiving emails from another new-to-me SPAM campaign. They want me to do two things – get really angry about what they are saying AND give them money to try and fight said things. I am getting over a dozen emails every day in this attack. I have set up filters and blockers to try and prevent it, but they manage to get through.
You may be wondering, "Why is Pastor Cameron telling us all of this?" My reason is simple. I am concerned that Christians have let their guard down and have begun to consume deadly servings of SPAM content in their lives – lies meant only to make you upset and turn your attention from the promises of God. I am watching as Christians that I love are more concerned about conspiracy theories and the latest social outrage issue rather than about what Jesus Christ has saved them into.
It all comes down to the aim that you will be afraid.
But that is not the way of Christ. Everything that Jesus has done and promises is so that fear will be removed from the lives of those He has saved. Scripture tells us in John's first epistle.
"There is no fear in love; instead, perfect love drives out fear, because fear involves punishment. So the one who fears is not complete in love." – 1 John 4:18 (CSB)
We must protect our spirit by clinging to the promises of Christ seen in Scripture. So when you are confronted by whatever SPAM content the world throws at you in an effort to make you afraid, look to the perfect love that Jesus Christ demonstrated.
Am I loving God completely? Scripture tells us that the greatest commandment is to love God with all of our being (Matthew 22:37-38). Loving God means we are careful about the Truth, and we won't spread falsehood. Loving God means we are peaceable and always seeking to point others to Him. Loving God means that I put Him first and will follow Him and even deny myself.
Am I loving my neighbor? Scripture tells us that the second greatest commandment is to "love your neighbor as yourself" (Matthew 22:39). This is no small thing. Paul takes it even further and says that we should "consider others as more important" than ourselves and look to others interests above our own (Philippians 2:3-4). That means your neighbor's safety, well-being, health, spiritual needs, etc. should be of utmost importance to YOU.
These two questions will directly impact how you respond when you are confronted with these lies. Prepare now to be so full of God's perfect love that you won't even give time in consideration of the oft sensational propaganda that the world throws at you. Dwell in the Word of God and actively look for ways to love God more and love your neighbor more.
If you like a fried SPAM sandwich, go ahead, I won't judge. BUT do be on guard against this deadly kind of SPAM that seeks to spread amongst the Church. Don't consume it. Don't spread it. Delete it.