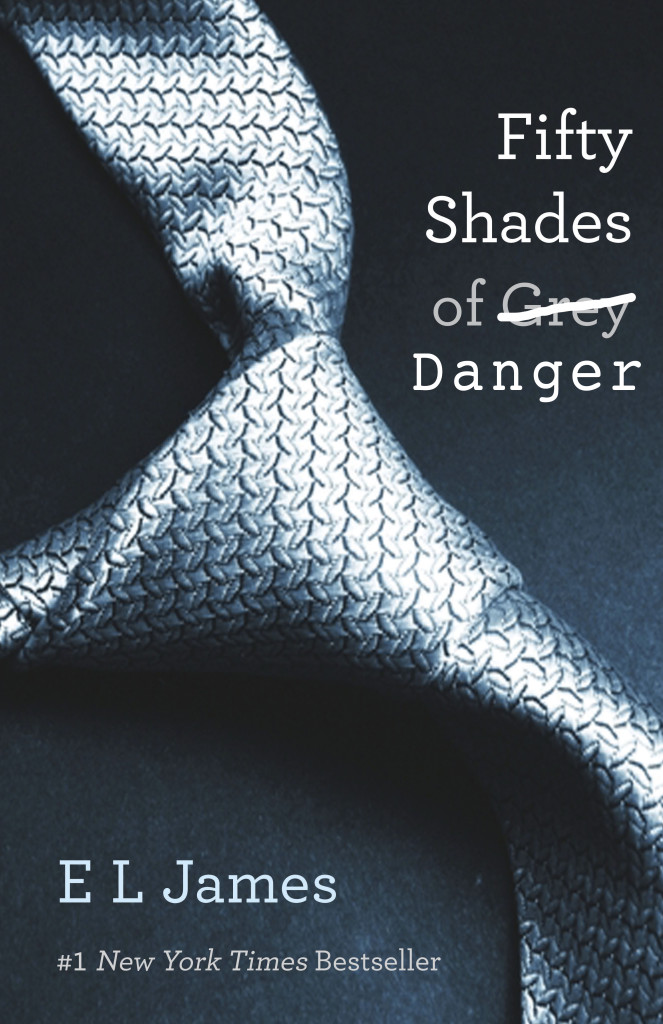 It has been a little while since I have written a post, and for that I apologize. However, when I hear of something as a Pastor that has the potential of ripping apart the fabric of my church, that is people's faith and Christian character; I am compelled to give a word about it. Hopefully a warning will be enough to keep some from plummeting off the side of this deadly cliff.
Two years ago, a book with a benign title hit the shelves and quickly lit up Facebook and other social media venues. For this Pastor, it quickly became obvious that like a cancer this book could do some major damage to families in a short period of time. Fifty Shades of Grey was celebrated by single ladies, soccer moms, college students, and even "Christian" women. As I would read posts that women would offer to everyone, including this Pastor, inquiring as to whom had read this book; I wept inside. For this book was nothing more than pornography posing as literature. And women, even some who attended my church, reveled in it.
Time past, this website didn't exist, and I never put my thoughts to print. Now this faux literature is becoming a pornographic movie experience that women I know are again celebrating with the exuberance of a drug addict who has scored their next high. The movie trailer premiered this week on one of the national morning television shows. In an attempt to shield young families and children from the pornography, they censored SOME of the trailer only to urge the audience to go and view the complete sewage on the Internet. And again I am left in anguish that people I love and care for have been so fooled by the world to think that this filth is good for them or pleasing to God. There is truly no difference between this and the man that celebrates having indulged in pornography.  No wife or mother or sister would be right to tolerate a man who relishes in the damaging effects of pornography on himself and his family.
Conservative blogger and pro-life advocate Matt Walsh has also recently written on this subject, To the women of America: 4 reasons to hate 50 Shades of Grey. His reasons surround the insanely poor writing, the mind-numbing trite posing as "art", it being anti-christian, and it being anti-feminist. Since I am a Pastor, I will focus briefly on the third reason.
Christians shouldn't allow this stuff in their lives.
50 Shades is absolutely pornographic. Pornography is defined as "the depiction of erotic behavior (as in pictures or writing) intended to cause sexual excitement." (merriam-webster.com) Just because it is written to a female audience or it is "mainstream" does not mean that it has ceased to be pornographic. Its intent is to arouse the audience and make them lust. This is why women are so excited about it.
So let me mention a couple reasons why a Christian shouldn't tolerate this book/movie.
1. God designed sex to be a beautiful thing and an example of the love that Christ has for the church. It exists to deepen the intimacy and relationship between a husband and his wife.God tells us to keep sex inside of the relationship (this doesn't mean that you should go see it with your spouse). Sex and all of its beauty and enjoyment must be kept in the marriage. If we do this, God will honor it and bless us.
Hebrews 13:4 – "Let marriage be held in honor among all, and let the marriage bed be undefiled, for God will judge the sexually immoral and adulterous."
Not only does the sex in this occur outside of a marriage relationship, it causes the viewer to consider sexual relationships apart from the spouse. This will result in wrong expectations and views outside of the design of God.
2. Lust is a sin against God, your spouse (present or future), and yourself. Sex inside of marriage is not lust (God is pleased with intimacy in the marriage). When we lust, we are wanting something that is not ours. The men, women, characters, and situations in pornography are depicting something outside of our marriage/lives. The Bible is very clear here.
Matthew 5:28 – "But I say to you that everyone who looks at a woman with lustful intent has already committed adultery with her in his heart."
Ephesians 4:19 – "They have become callous and have given themselves up to sensuality, greedy to practice every kind of impurity."
When we give ourselves to lust, God CANNOT use us. As Christians, our purpose in life is to be used by God. But if we are so consumed with lust and sin, then it is impossible for God to employ us for His pleasure. We are outside of God's will.
3. Love is of God, and pornography is not love. Again, 50 Shades of Grey is pornography in every sense of the definition. It may be called "soft porn", but it seems as though that is just a term to make it "mainstream" and socially acceptable.
1 John 4:19 – "We love because he first loved us."
1 Corinthians 13:4-6 – "Love is patient and kind; love does not envy or boast; it is not arrogant or rude. It does not insist on its own way; it is not irritable or resentful; it does not rejoice at wrongdoing but rejoices with the truth."
If you are a Christian and follower of Jesus Christ, then you have love. Therefore, you MUST be patient, kind, non-envious, not rude…and always TRUTHFUL. Pornography fails at all of these things. It destroys the heart of the one watching and the one making the pornography! It rips apart families. It deadens any existing love by convincing the individual that their love/relationship is not enough. The Bible also says that if we are filled with the Love of God, then the things that God loves will fill us up (Philippians 4:8-9).
The Bible goes on and on about this issue, read it!
Please… one last time let me implore you to resist the temptation to see what all the fuss is about. There are some things that are not even worth the curiosity. And if you have already read the book, please don't go see the movie. You will in no way be edified by doing so. As at Matt Walsh says, "Christians might wrestle with these temptations, but they shouldn't try to make excuses or pretend that it's OK in this case because they really enjoyed the book. That's nonsense, a cop out, and they know better." Church, are you Christian? If so, know that your Lord and Savior died on the cross to save you from this garbage.